President Luis Guillermo Solís signed a decree expanding by 2,386 hectares the Braulio Carrillo National Park, which lies northeast of Costa Rica's capital, during a ceremony on Thursday. The added terrain previously was part of the Cordillera Volcánica Central Forest Reserve, which borders Braulio Carrillo National Park.
Although this news may seem to be out of the travel World, in terms of us, at Camino Travel, the news affect our passengers as much as it could. The fact that Costa Rica keeps on adding land to its already quite big percentage of protected land is really good news. Especially if we see it under the light of the Global Warming and the drought that we had for months.
We are proud of this, but even more than proud, we are happy.
It really doesn't give Camino more places to go, in terms of National Parks, but it reminds us of how important it is to spread our conservation ideas throughout the World, and how basic it is to add our rainforests to the itineraries we create. We must share this. We must contribute to the National Parks so that they will keep on protecting the water and the air of our children and grandchildren. We must have our visitors seeing this, as if these ideas spread, the World will be a much better place.
To travel is to open the mind, to learn and to make the World a a happier and better realm for everyone.
Travelers from all over the World come to see our rainforests, our wildlife, the beauty that they hold. And even though, our National Park System is not made for tourism, it benefits from it, economically speaking, but also these travelers are the same that will start supporting the conservation and preservation ideas. They will do it at home, as they did it here. They realize now, the value of a rainforest to the World.
And this is how, with a strong National Park System, conscious media and travel agencies and with the help of knowledgeable nature tour guides that inform the passengers of the difference they can do, the travel industry becomes an agent for the peace with the environment, and by doing this, a supporter for the peace with the future humanity.
---
At 47,588 hectares, Braulio Carrillo is the largest national park in Central Costa Rica and home to 6,000 different plant species, more than 500 migratory and endemic bird species, and other fauna. Founded in 1978, the park is densely forested and includes the Barva and Cacho Negro volcanoes.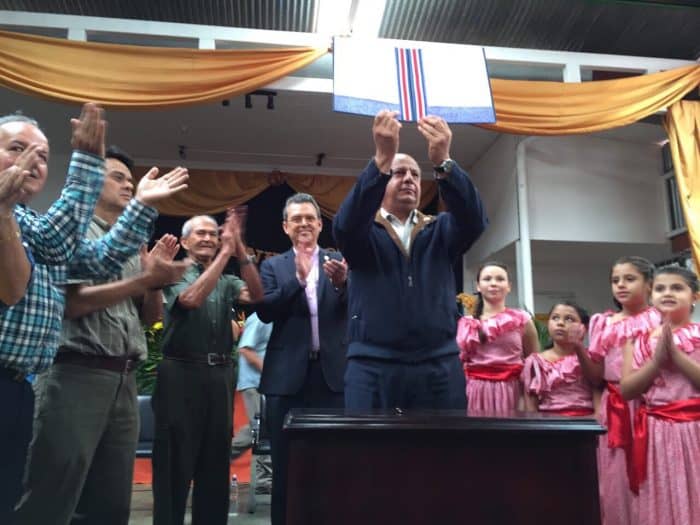 Costa Rica President Luis Guillermo Solís holds up a decree expanding the Braulio Carrillo National Park at a school in San Isidro de Heredia, on Oct. 15, 2015.